Welcome
Hello fellow earthlings (beings home to planet Earth), we are two down-to-earth beings who feel called to serve as ground control for fellow humans who are interested in journeying with 5-MeO-DMT. We facilitate the powerful, legal psychedelic in and near Vancouver, British Columbia with an approach that is gradual, supportive, and based on informed consent. We welcome you to explore our website and feel free to reach out to us.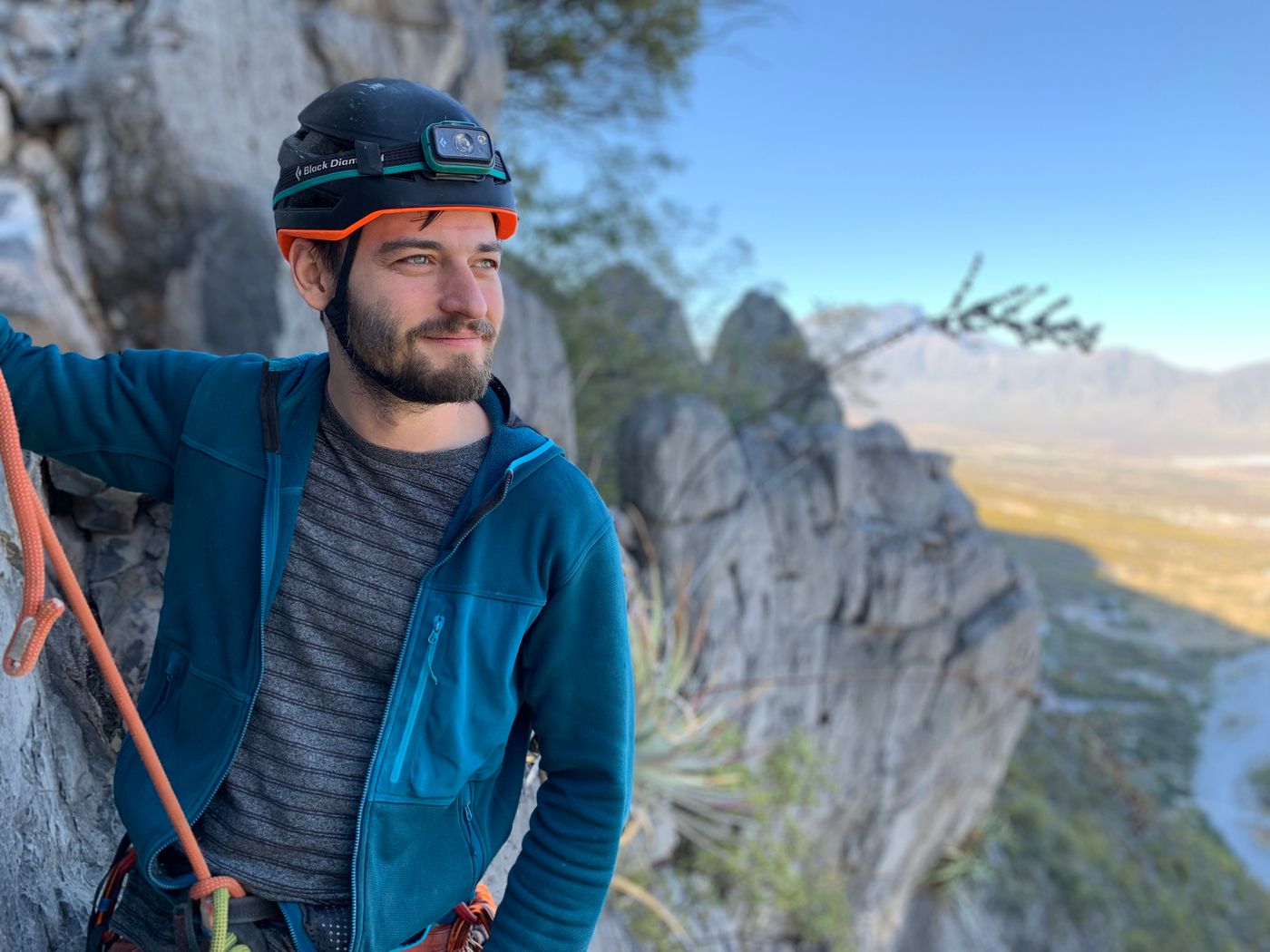 Sagan Bolliger
I grew up close to nature on a farm in Nova Scotia. My early memories are filled with rich solitude sitting by the river in the forest or under the willow tree by the pond. Since my early teens I have been drawn to existential questions of life and death and to the path of introspection. In my 20s I did a bachelor's in psychology and philosophy and a master's in artificial intelligence at the University of Toronto. After studying the mind objectively for a number of years, I felt called to return my focus to the inner realm of being wherein rests the soul. Having stepped into the role of facilitating the inner work of others as a profession, I feel as though I am stepping in through the door of the house of my belonging.
I share my life with my partner, Helena, and together we have created a life filled with joy, love, and balance through our work, both inner and outer, and our shared love of nature, adventure, and freedom.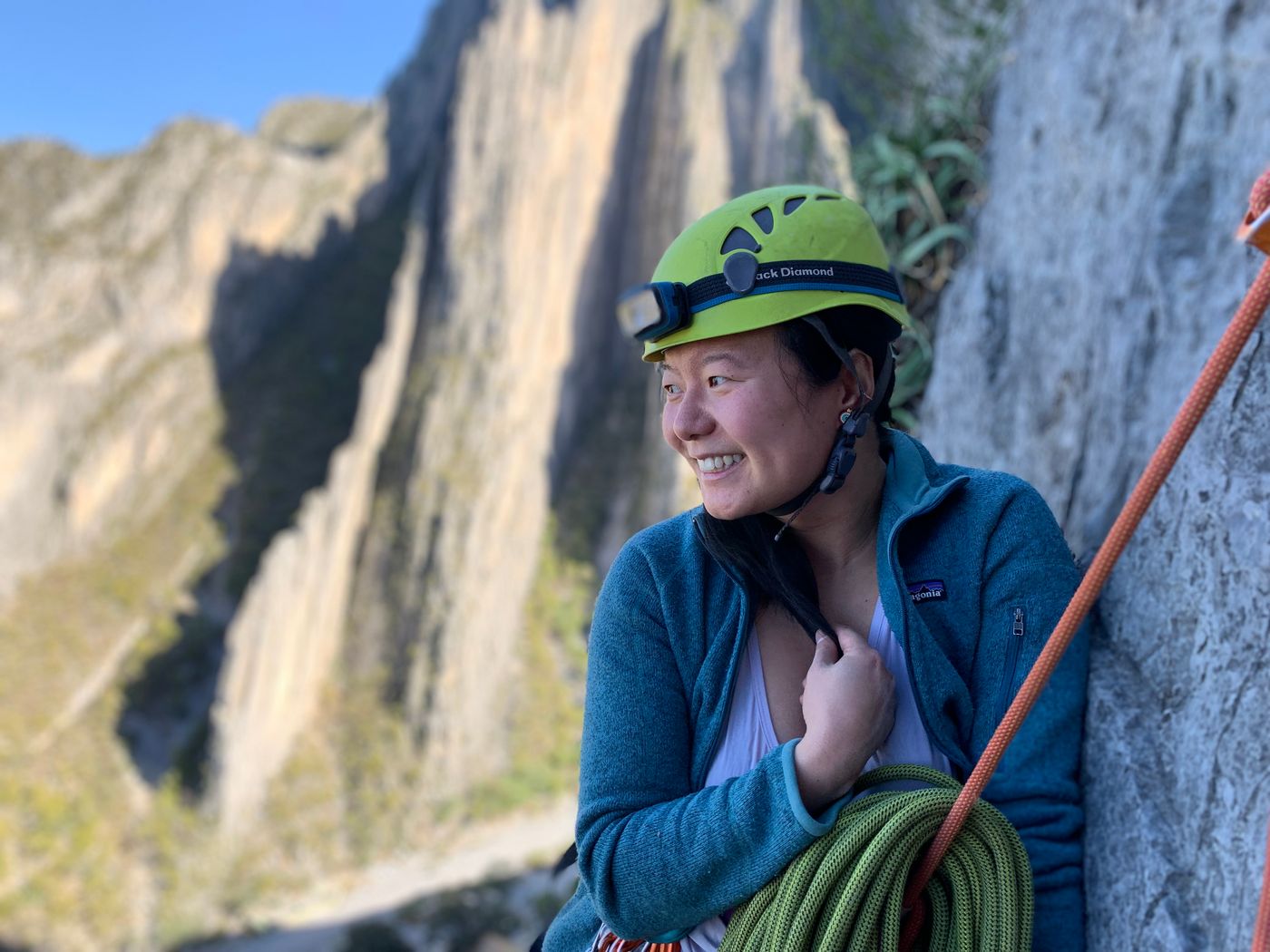 Helena Zhu
I spent my childhood between a quaint university campus, where my grandfather was a professor, and a rural home in the mountains in Sichuan, China. I have since spent a lot of my life on beautiful university campuses and in the mountains, both as a rock climber and a skier.
In my work and studies, I enjoy understanding the world we live in and how we got here. I started my career as a journalist for four years, which enriched and expanded my understanding of diverse human experiences, perspectives, and choices. When I got to the University of British Columbia for my bachelor's and master's, I chose to study a variety of disciplines in social sciences and humanities to understand history, communism, religion, and wealth and poverty. I then continued that inquiry to one of the most mysterious countries in the world, North Korea. I worked on a project on North Korea for three years, which allowed direct access to understand the country and its people. I believe in curiosity and all of us having direct access to knowledge that we seek. I am grateful for psychedelics for their ability to connect each of us to our own truths and perspectives that seem both so close to our hearts, yet so expansive. I feel really fortunate to get to share a psychedelic very close to my heart with others, so that they get to experience for themselves the miracle of a human meeting a toad.
Training
Toad School with Trina Nguyen and Lucy Everylove (for 5-MeO-DMT facilitation)
Phoenix Academy Psychedelic Therapy training with Bradley Foster, Linda Nicholls, and Liz Razanson
Vancouver Crisis Centre (for comfort with crisis intervention and suicide prevention)
Internal Family Systems The I in the Storm workshop with Dick Schwartz at Esalen Institute
Opening to Grace Somatic Study and Play Group workshop with J. Mariah Moser
Numa Somatics Breathwork Immersion with Trevor Yelich
Radiant Heart singing retreat and song circle with Julie Blue (Helena)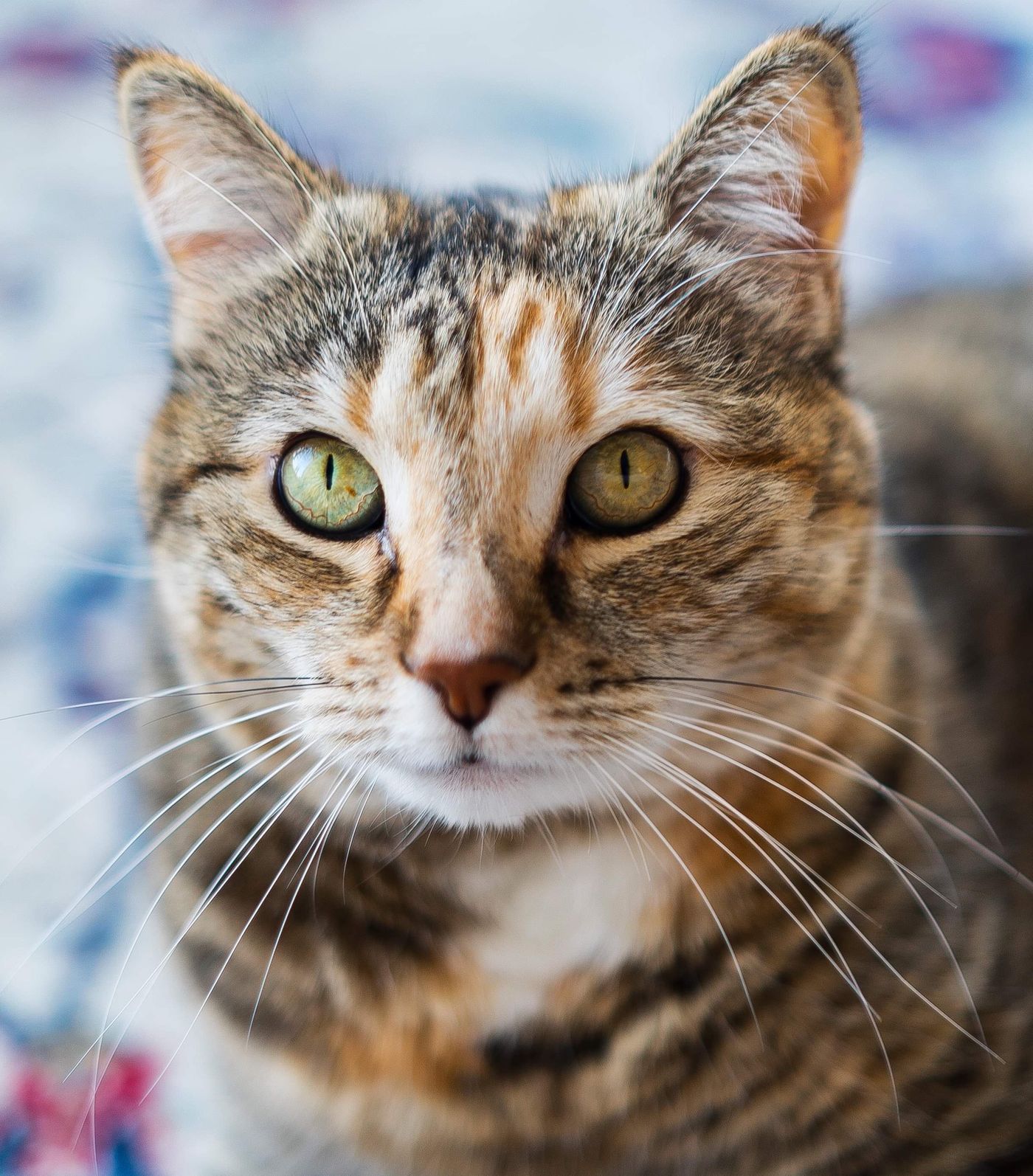 Kafka
I am a gentle, soft tabby cat of a ripe age with wise whiskers. I weave in and out of facilitation, offering grounding company, playful headbutts, and distinctive purrs when they are needed the most.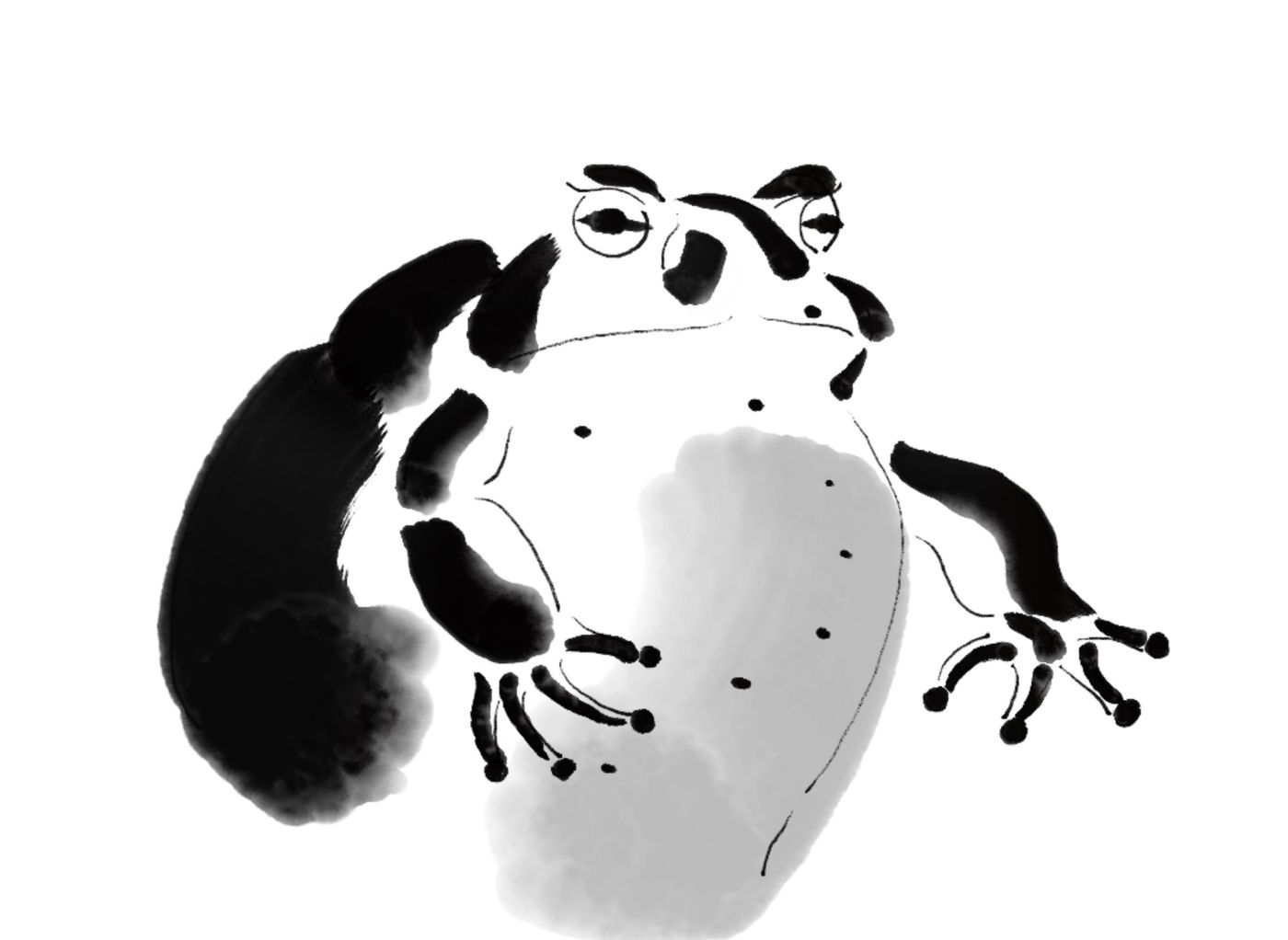 About the Medicine
5-MeO-DMT is a powerful, legal cousin of what is commonly known as DMT (more precisely N,N-DMT), both of which can be found in the Amazonian brew ayahuasca. As its nickname "the toad" suggests, 5-MeO-DMT is extracted from the venom of the Incilius (formerly Bufo) alverius toad, also known as the Sonoran Desert toad and Colorado River toad. They spend most of their lives hibernating in underground burrows, only coming out to feed and mate at night in the summer rainy season. We use synthetic, or what we call vegan 5-MeO-DMT, for the purity of the substance and to not harvest venom from the toads, which leaves them without defence. We have found no conclusive historical evidence for the indigenous use of these toads for their psychoactive properties prior to the 20th century, though 5-MeO-DMT is also found in low concentrations in a variety of plants, which indigenous peoples of South America have used for thousands of years.
5-MeO-DMT is likely produced endogenously in humans, as it has been detected in blood, urine, and cerebrospinal fluid. Humans have reported 5-MeO-DMT-like experiences in darkness retreats and in near death experiences. In our work with 5-MeO-DMT both as facilitators and journeyers, we have encountered profound themes of life, such as love and death. When a human surrenders to life, they also surrender to death, and what takes up the space that the journeyer surrenders is immense light and unconditional love. Not everybody has this experience on 5-MeO-DMT, but we trust that everybody gets the experience that serves them and their intention for the journey.
The healing work can also manifest in the body, with sensations of the medicine pushing through blockages within the body. Journeyers can feel more flow and lightness in their bodies, including expansiveness and freshness in their breathing. When in a safe enough space, it can also facilitate healing from trauma, namely re-opening a traumatic experience, but giving space for what is needed for wholeness, be it understanding it, recontextualizing it, or rewriting it. The medicine also has the potential to facilitate spiritual awakenings, whatever spirituality could mean for an individual.
Unlike many other psychedelics, the 5-MeO-DMT experience is relatively brief, lasting under 30 minutes. For many people, the short duration of the experience provides a sense of comfort in knowing that whatever happens, they will be back in the physical world soon enough. This in turn can lead to a greater feeling of trust in the medicine, which allows the journeyer to delve deeper into the experience.
Have a look at our 5-MeO-DMT resources page for some of our favorite books, articles, films, podcasts, and scientific studies about the medicine.
Our Services
We offer private facilitation of 5-MeO-DMT for one or two journeyers per session in and near Vancouver, B.C. Our offering consists of four sessions, including an initial consultation to discuss fit and suitability of the medicine; an in-person preparation session, where we dive deep into exploring intention and give you tools that can help you navigate the medicine space; the journey day, during which we go through our three-dose protocol with preparation and integration in between doses; and an integration session in the week following your journey. In addition to the four sessions, we also offer at-home exercises and resources to assist with your preparation and integration, and referrals to complementary practitioners to assist the integration of your experience when appropriate.
Click the "read more" links after each heading below to learn more about our process.
Consultation (1 hour) [read more +]
Our process starts with a free one-hour consultation, either in-person in our space or on Zoom, as suits your needs. This is an opportunity for you to meet us and ask us any questions you have about our work. It is also a time for us to learn about you and what you are hoping to get out of your experience with 5-MeO-DMT. We leave this time open for conversation and sharing to give us all space to feel out whether our service is a good fit for your needs at this time.
Prior to the consultation, we will ask you to fill out a questionnaire that helps us understand your needs better as a journeyer. The questionnaire covers motivations for journeying, previous experience with psychedelics, and medications and medical conditions relevant to your safety in journeying with 5-MeO-DMT. Should we have any concerns or questions in reviewing your questionnaire, we will discuss them with you during the consultation. [collapse -]
Preparation Session (~2-3 hours) [read more +]
Prior to your journey day, we will have a preparation session in our journey space to help you prepare for your journey and for us to learn more about how we can best support you. Topics we cover include:
Background about the medicine and what to expect on each dose.
The role of intention in going into a journey. We offer therapeutic support and exercises for clarifying intention. We find that the inner work often begins before you even take the medicine!
Grounding techniques and breathing exercises that can help move through difficult emotions such as fear should they arise on your journey.
The role of therapeutic touch during your journey. We will explore your preferences around how much and what kind of touch you find helpful.
Integration and planning for the days after your journey day to get the most out of your experience.
We will also discuss our commitment to confidentiality and your safety.
The preparation session is also a space to raise any lingering questions or concerns prior to your journey day. Our intention is for you to feel confident and have all the tools you will need for your journey. [collapse -]
Journey Day (~4-6 hours) [read more +]
When you arrive on your journey day, we will transition into ceremony space by moving to music, meditating, and pulling an oracle card. Before offering the first dose, we give you the opportunity to practice inhaling from the empty pipe so that you don't need to worry about mechanics when you take the medicine.
We offer three doses, called the handshake, the hug, and the full embrace, each dose higher than the one before. Between each dose we help you integrate the experience, and talk about the upcoming dose. The handshake dose is a light dose, which for most people is mainly experienced in the body, revealing where tensions and blocked energy are held. The hug and the full embrace invite deeper levels of opening, allowing us to feel, experience, and express what we've suppressed. At the deepest level, many people have a profound encounter with themselves and the universe that defies explanation, but whose impact is not easily forgotten.
Whatever arises in your session, we are there to keep you safe, and offer a loving, compassionate presence. The session ends with some homecooked food to help ground you back into this world before you leave. We find that journeyers are quite functional and even able to drive by the time they leave. [collapse -]
Integration Session (1 hour) [read more +]
Approximately one week after your journey day, we will have a one-hour integration session, either in-person or online. We offer this space to assist you in bringing the insights you gained on your journey into your everyday life. This is also a space to ask us any lingering questions, give us feedback, and for us all to say our goodbyes until our paths cross again. We also offer ongoing support by as needed by email or phone in the days following your journey. [collapse -]
Integration Circles (optional) [read more +]
We also offer a monthly integration circle open to our past journeyers, friends, and community members to share and seek support for their ongoing work integrating the learnings of their psychedelic experiences into their lives. We welcome you to attend our circles after your journey for as long as they serve. You can read more about our circles under the Community section of our webstite. [collapse -]
Considering working with us?
We would love to meet you, hear your story, answer your questions, and see whether we and our work might be a good fit for you. Send us an email and we'll send you our booking link and intake questionnare for you to get started on. We look forward to connecting.
Financial exchange We ask for a financial exchange for our work on a sliding scale from $1,000 to $2,000 per journeyer. We offer our sliding scale with the intention to make this powerful healing work available to as many people as possible with different financial situations. After your consultation, if we all feel it is right to proceed, we ask for a deposit of $300, with the remainder due after your journey. In considering how much you would like to contribute, we invite you to choose an amount that feels right given your own financial situation and the impact this work has had on your life. Whatever amount you choose on our sliding scale, we accept your contribution with gratitude for helping to support our livelihood, our ability to continue doing this work sustainably, and our ongoing training and learning. All of our prices include 5% GST.
Our Facilitation Spaces
We offer private facilitation in two beautiful spaces. Our city space in Chinatown in the heart of Vancouver offers convenience and the comfort of being close to home (for most journeyers). Our island house, a short ferry ride from the city, offers an oasis of nature and tranquility. With beach, forest, and a cedar sauna, the setting gives space for quiet reflection and reconnection with ourselves. Come either as a day trip from Vancouver or spend the night after your journey for $200 or $300, depending on the room.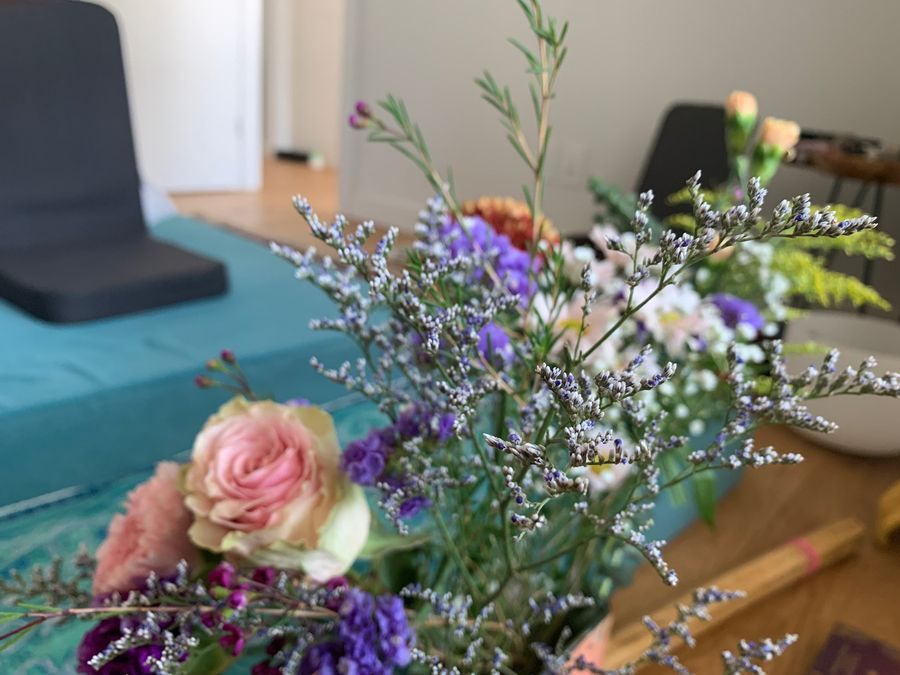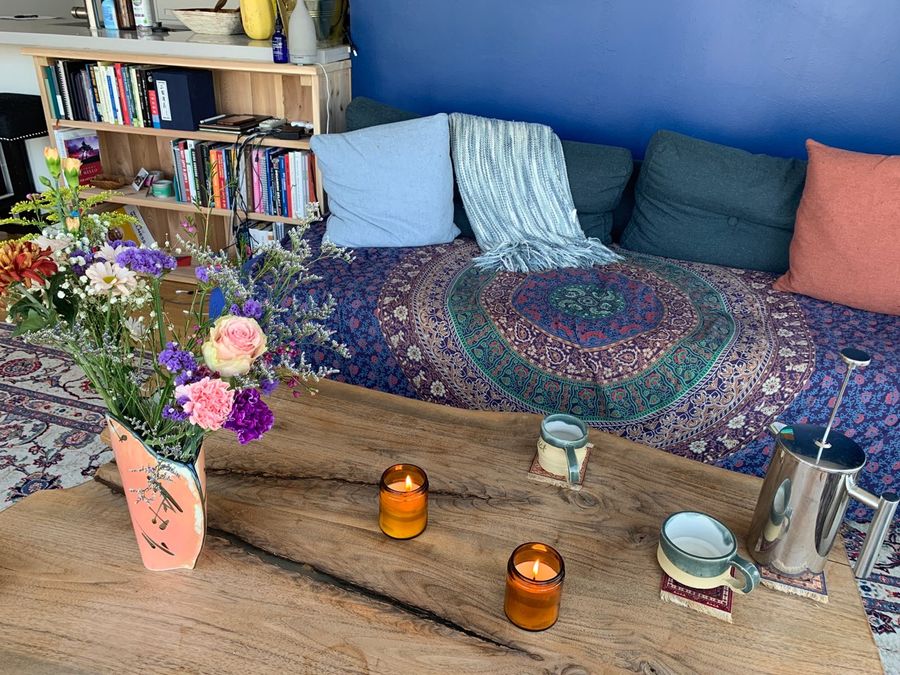 Our Chinatown, Vancouver space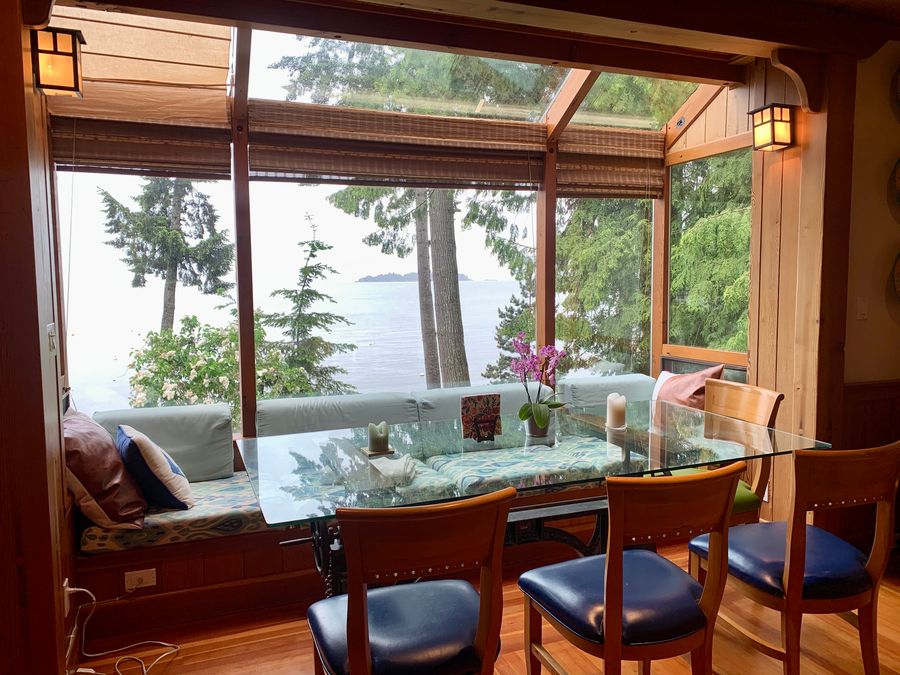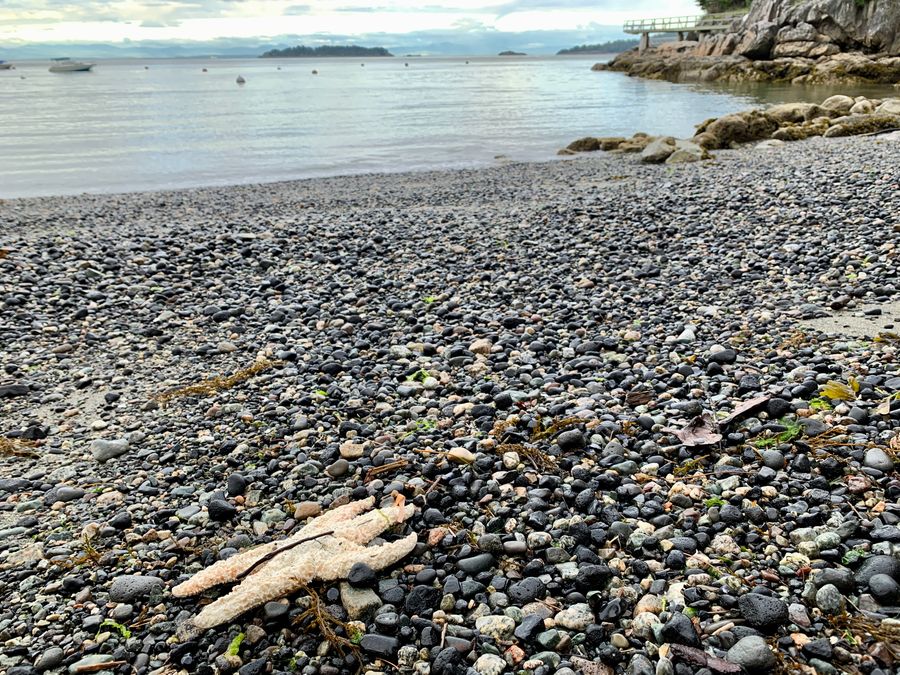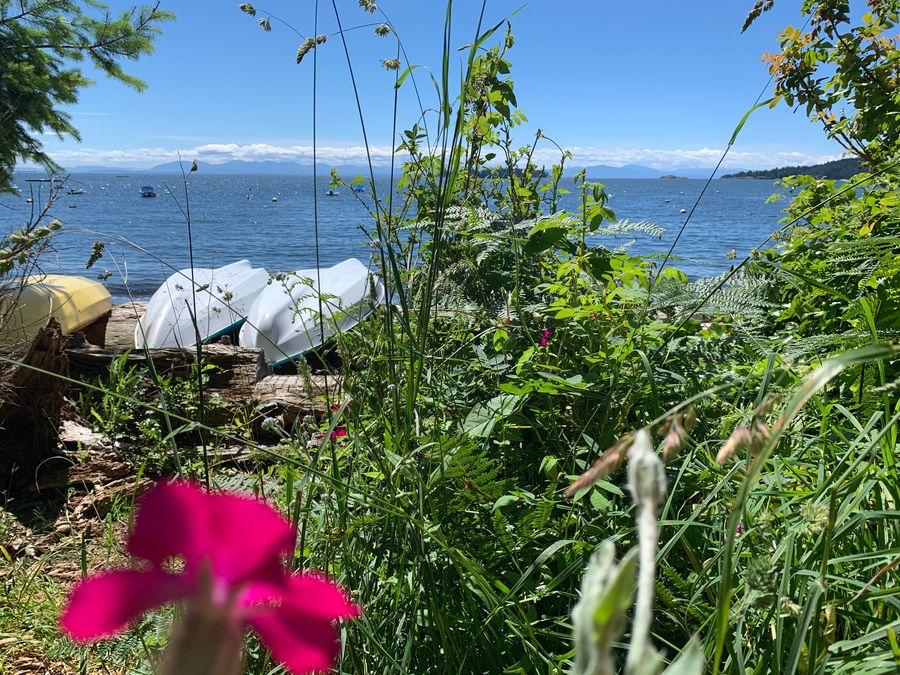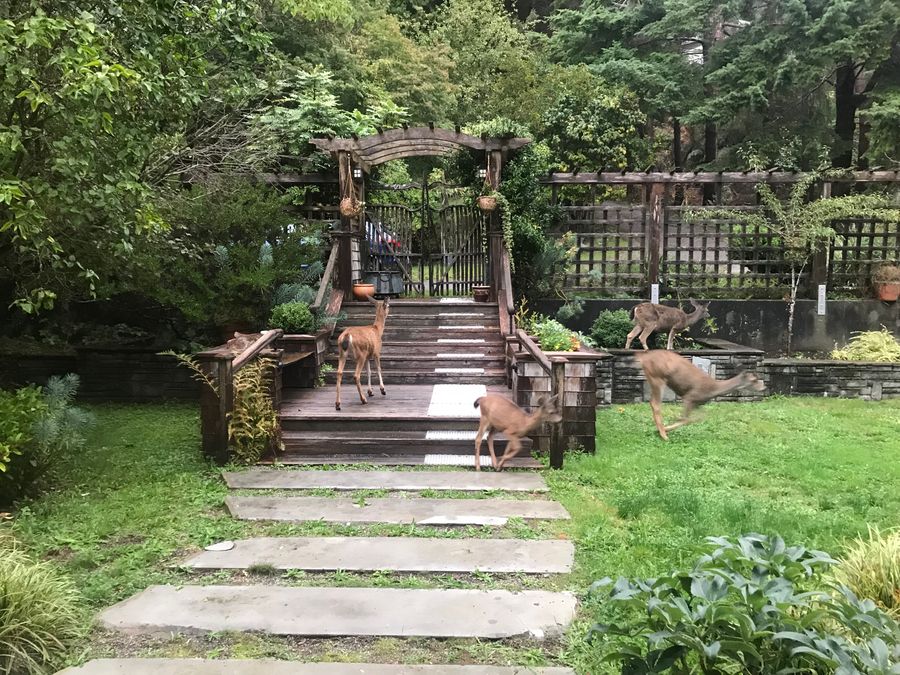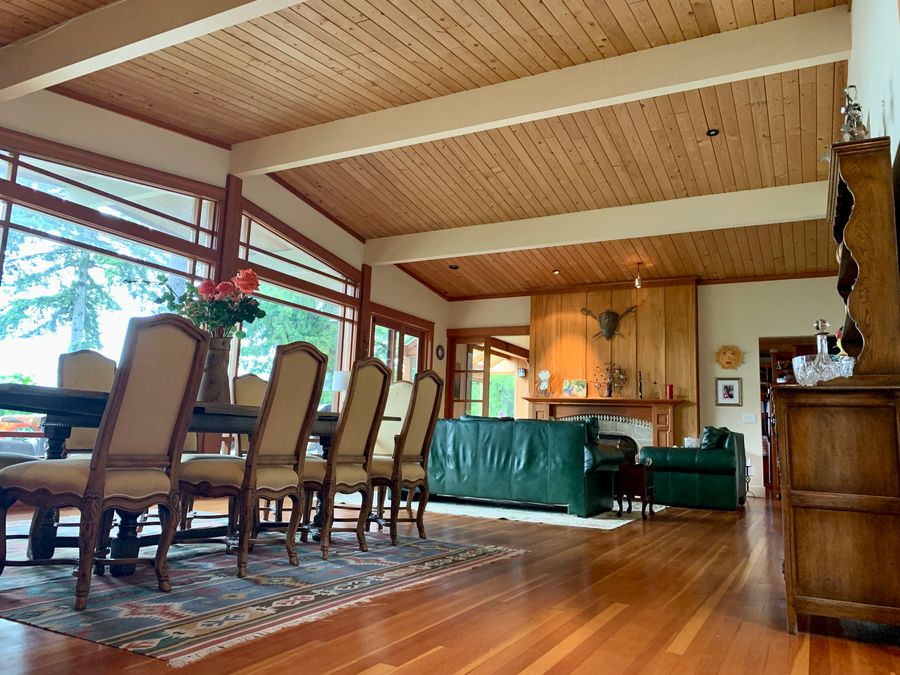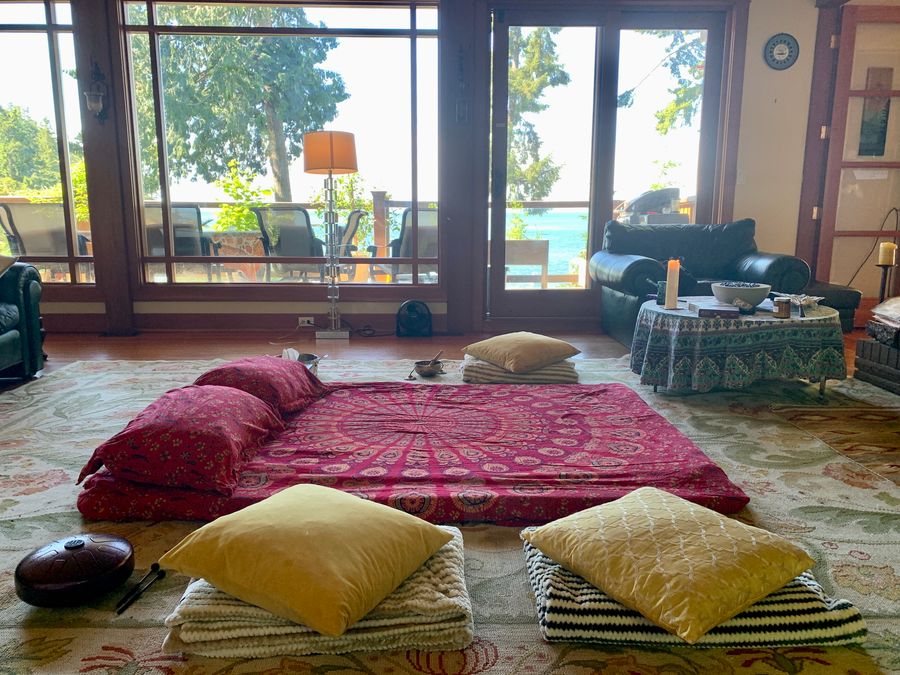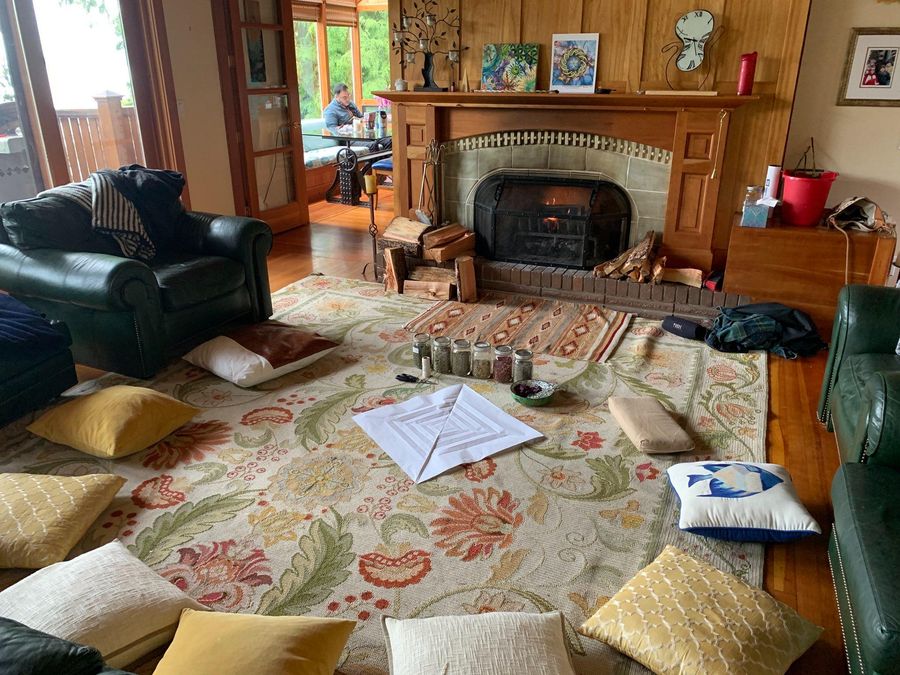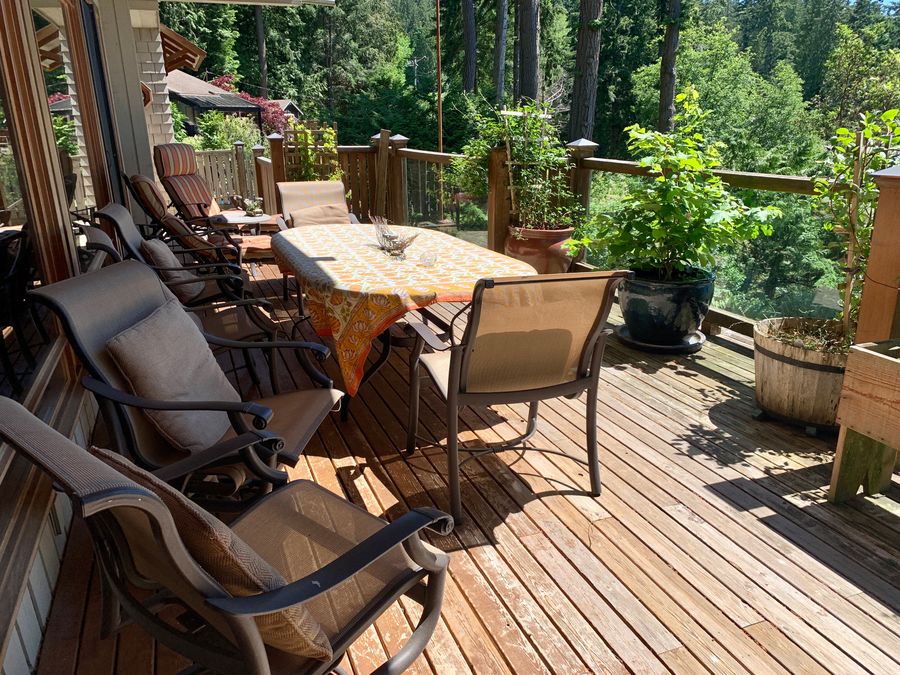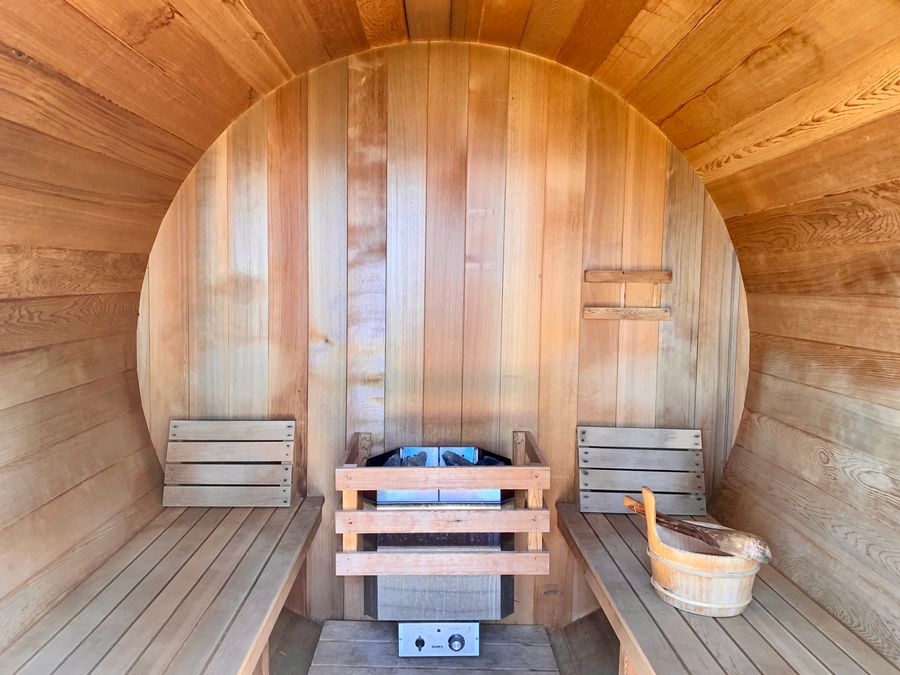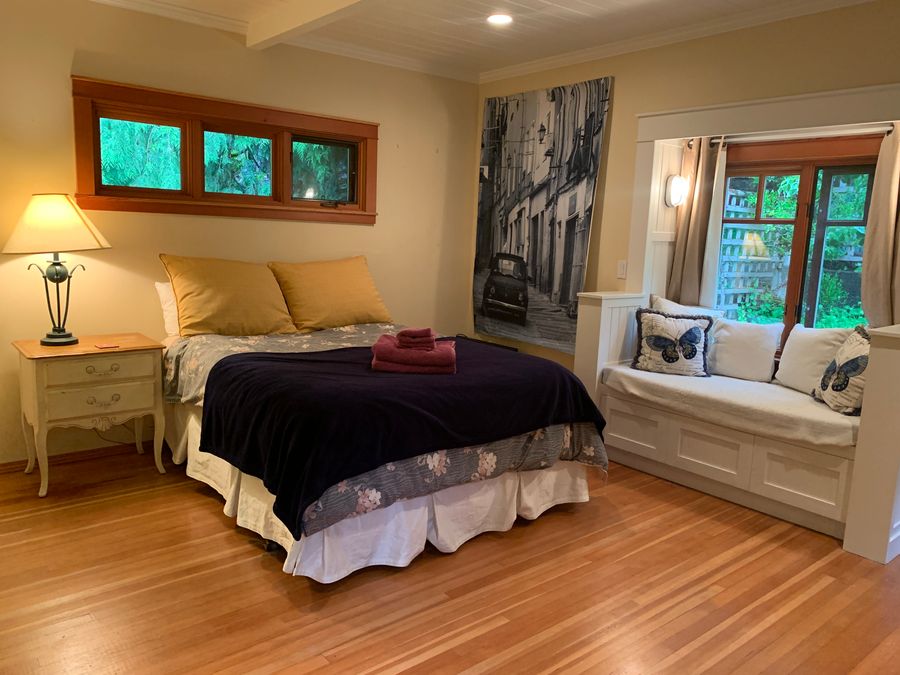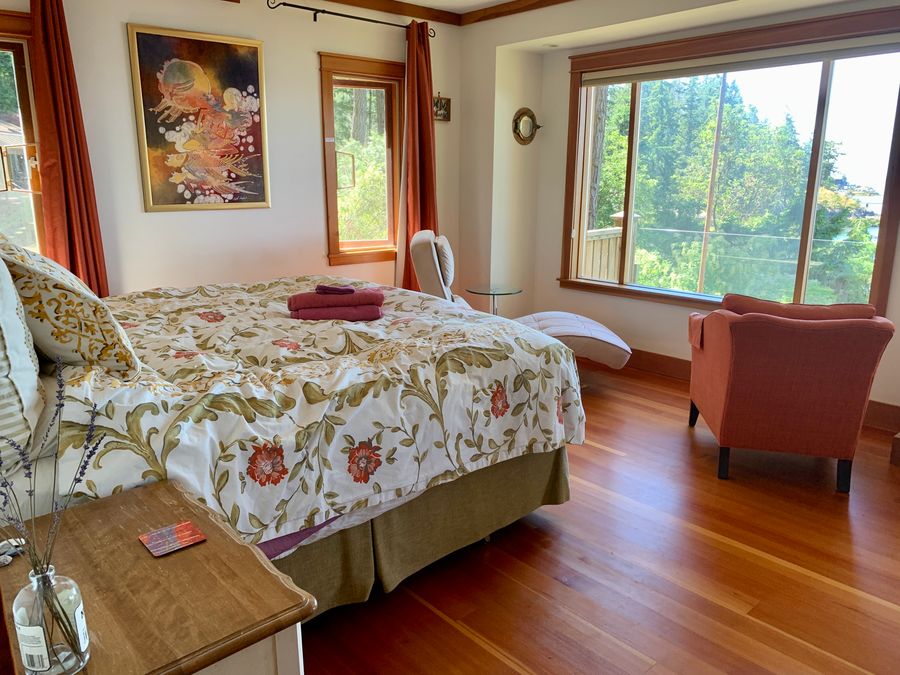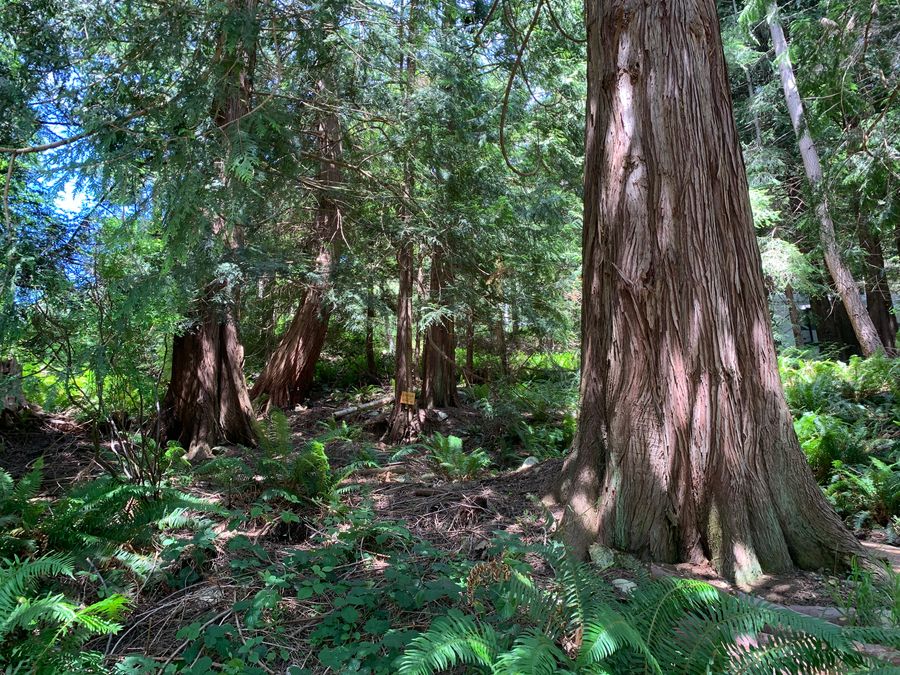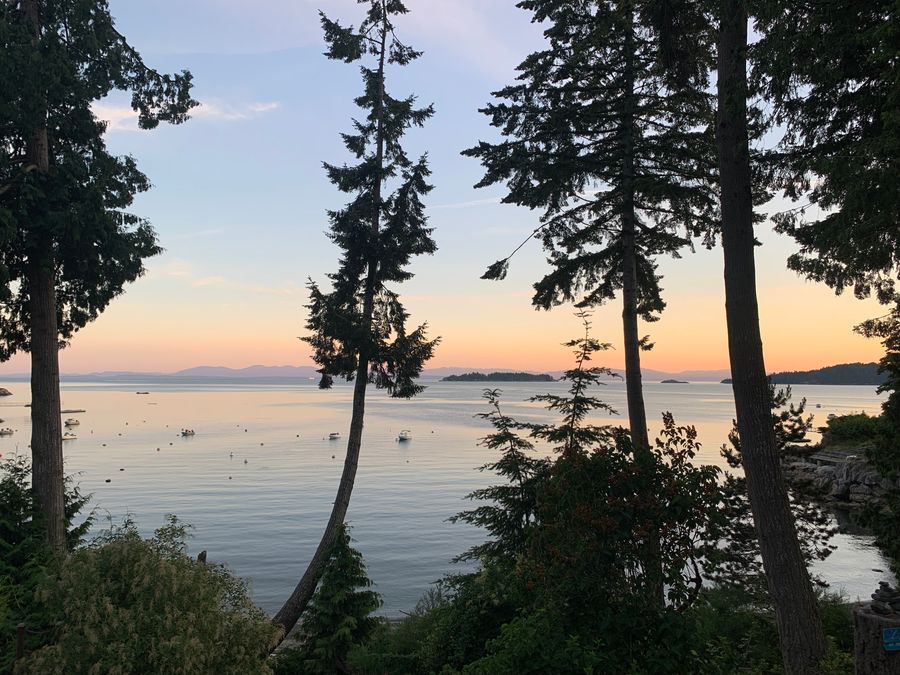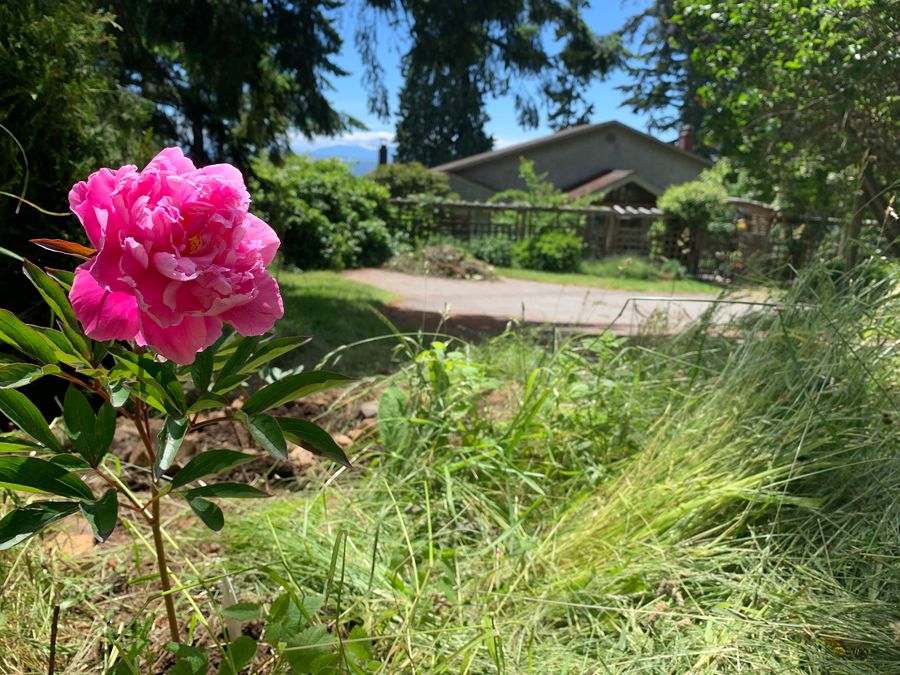 The island house
Upcoming Retreats
Please check back soon for upcoming retreats.
Testimonials
(Scroll right to read more →)
Our Approach
We provide a grounding and loving presence to hold space for the journeyer's inward exploration. We work with the journeyer to provide a supportive, safe, and comfortable space for them, so that they can sink in deeper and explore further. We are sensitive to and attuned to the needs of the journeyer throughout the experience. We use a variety of tools to enhance and flow the experience, including but not limited to sound (recorded music, singing bowls, drumming, singing), affirmations, breathing, therapeutic touch, grounding exercises, movement, poetry, and homemade herbal tea. We draw from person-centred and Internal Family Systems approaches to psychotherapy in some of our preparation and integration.
The short duration of the 5-MeO-DMT experience, lasting under 30 minutes, allows us space for three doses per journeyer within one session. We start with a very light dose, known as the handshake, to allow the journeyer a gentle introduction to the medicine space. For most people, this dose is mainly experienced in the body and is non-psychoactive. If the journeyer is comfortable with the experience and wishes to proceed, we then offer several increasing dosages, each of which have a characteristic quality. This multiple dosing approach allows the journeyer to develop comfort with the 5 (short for 5-MeO-DMT) and gradually deepen the experience within the session. We also see the multiple dosing approach as a method to maintain active informed consent, since at any point if the journeyer feels that their experience is complete, we can close the session.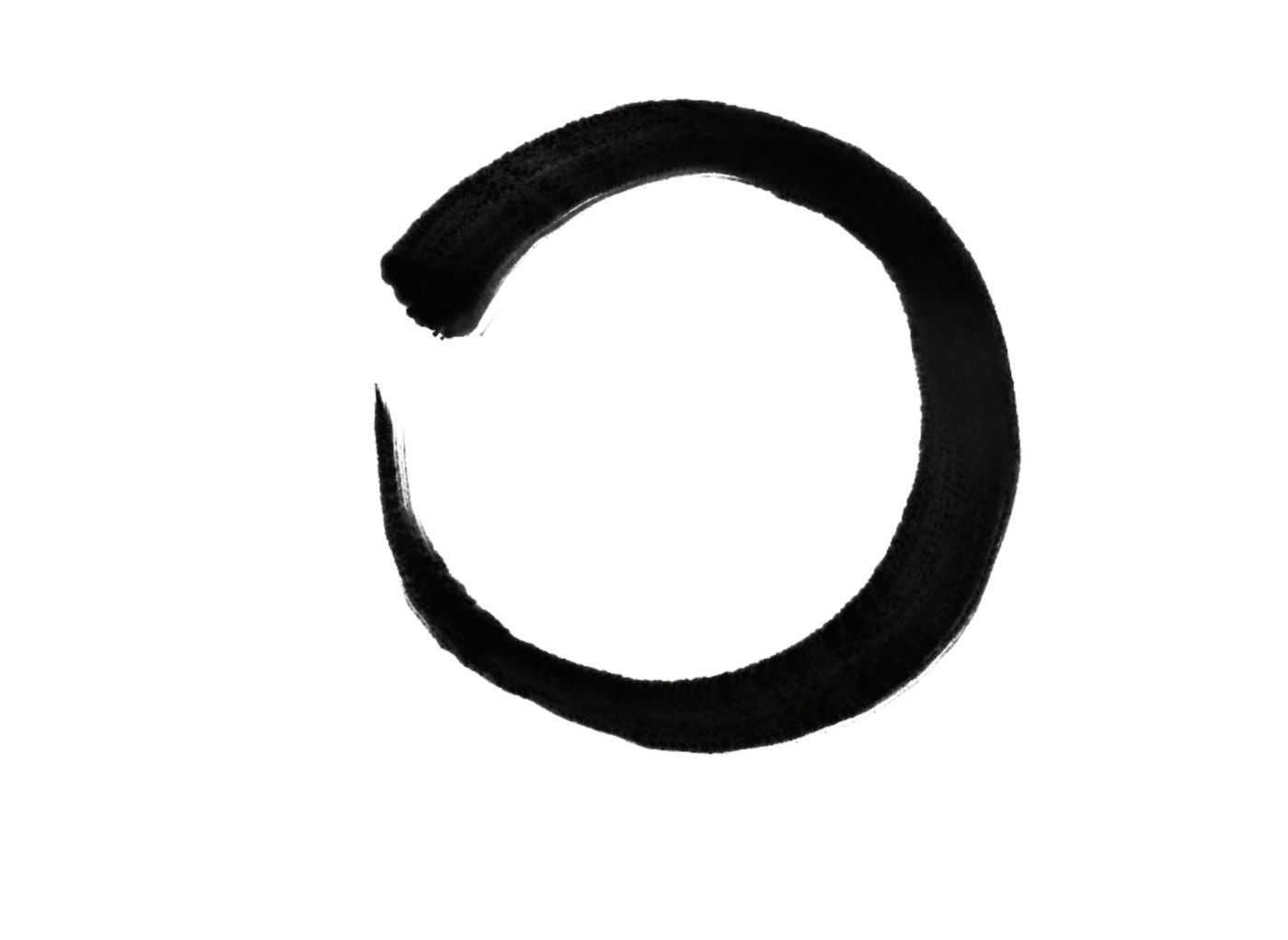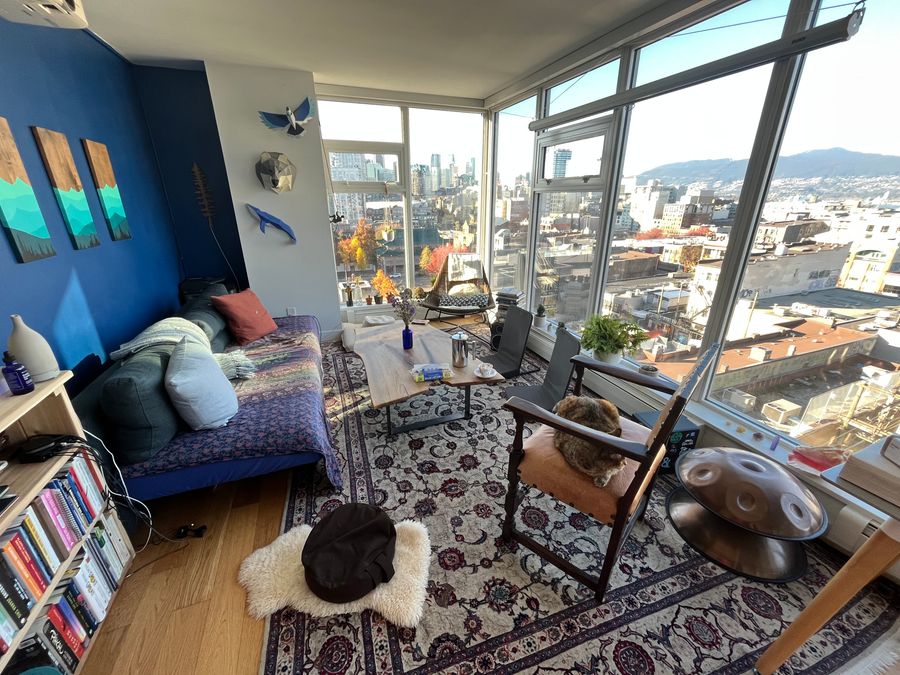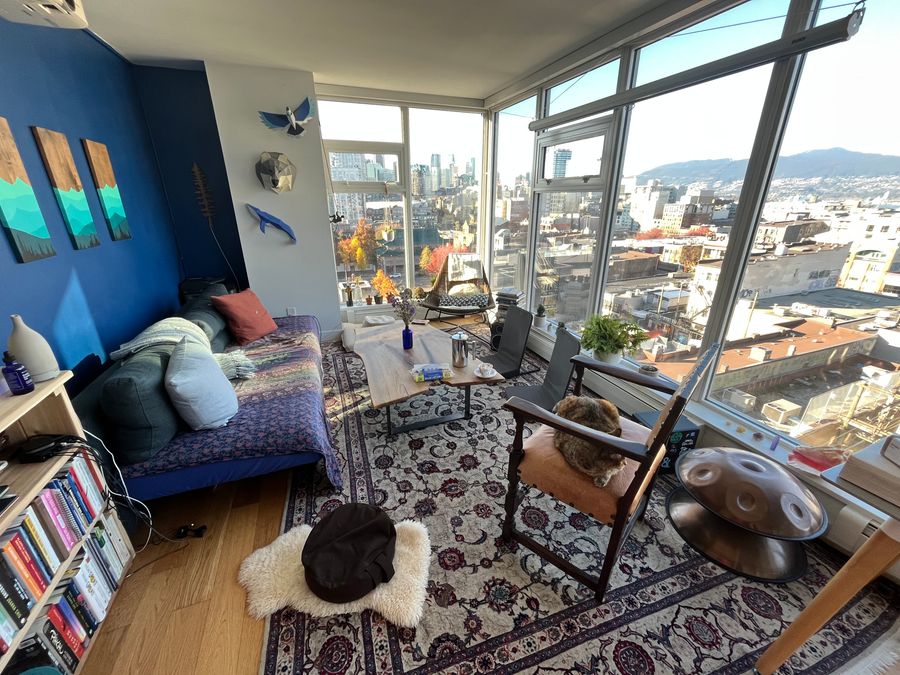 We create a safe and inspiring space for our journeyers, friends, psychedelic enthusiasts, and ourselves to come together to share our own experiences with 5-MeO-DMT and other psychedelics. We have found the power and magic of resonating with another human being on our psychedelic and lived experiences and the fun of discussing our respective understandings of our experiences. In our circle, we believe in respect and confidentiality. Everybody can make their own decision on whether to share, how much to share, and whether to be witnessed or receive reflections and feedback from the group. We ask that everybody take their own experiences and stories with them, but leave others' experiences and stories for others to share themselves. We generally open our home for another hour after the circle for optional informal exchanges over tea and snacks. Our circles meet in Vancouver's Chinatown on or near full moons and function on participant-generated circle agreements and donations.
Next circle: TBD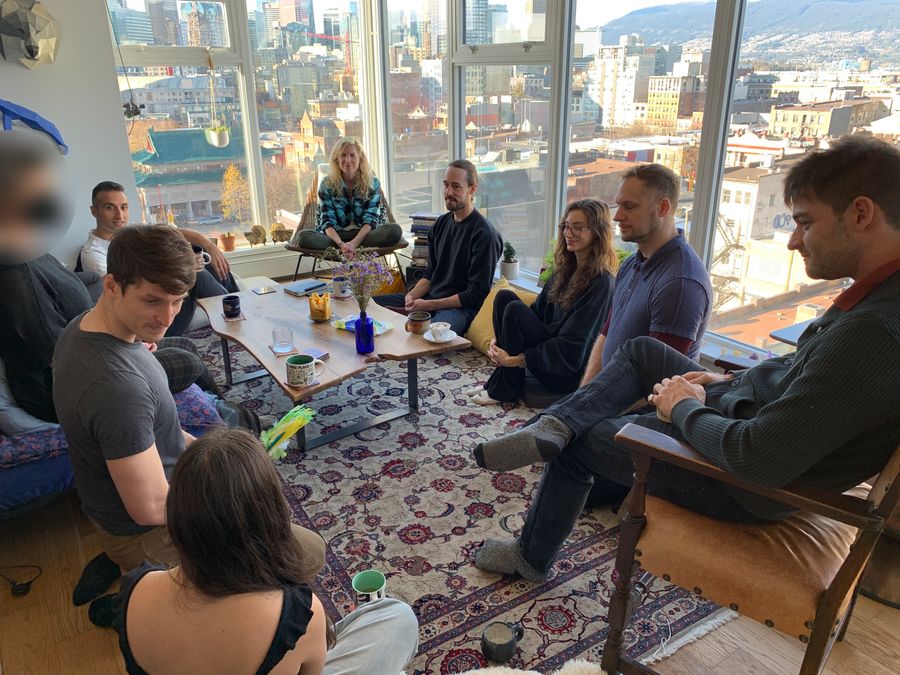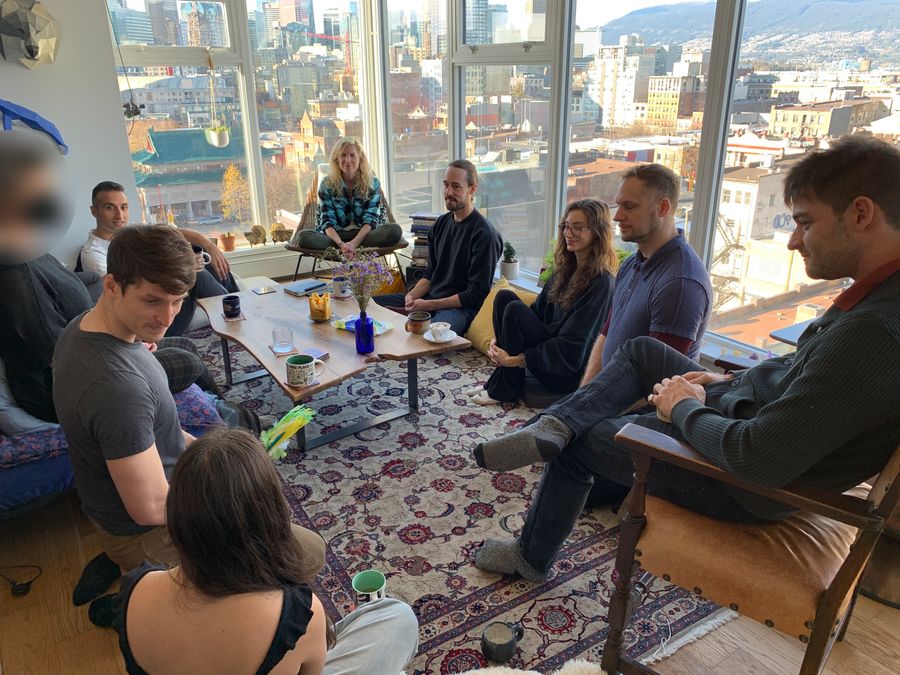 Community and accountability are important values for us in this work. We create a space to come together with fellow psychedelic facilitators to discuss what has been working for each of us, what we are exploring, ethics, self-care, and any cases that we would like to touch base on. We organize these circles once a month on or near the new moon, a time for reflection. We start with a formal circle for the first two hours, followed by an hour of informal social. The circle functions on participant-generated agreements and donations.
Next circle: Wednesday, June 14th 2023 @ 6:30pm
On a magical island some salt water away from Vancouver in spring 2022, we organized a Toad School, a foundational training for 5-MeO-DMT facilitation. We gathered four other 5 facilitators with diverse background and training and together created a holistic experience for learning, exploration, and growth. We included a ceremony roleplay, a facilitation practice with a mini dose, yoga, ocean plunge, healthy home-cooked meals, and training on integration, ethics, and trauma-informed care between crashing waves in the ocean and whistling needles of the forest. Together with 10 participants, we created a new community of toadies.
Read a trip report by one of the participants.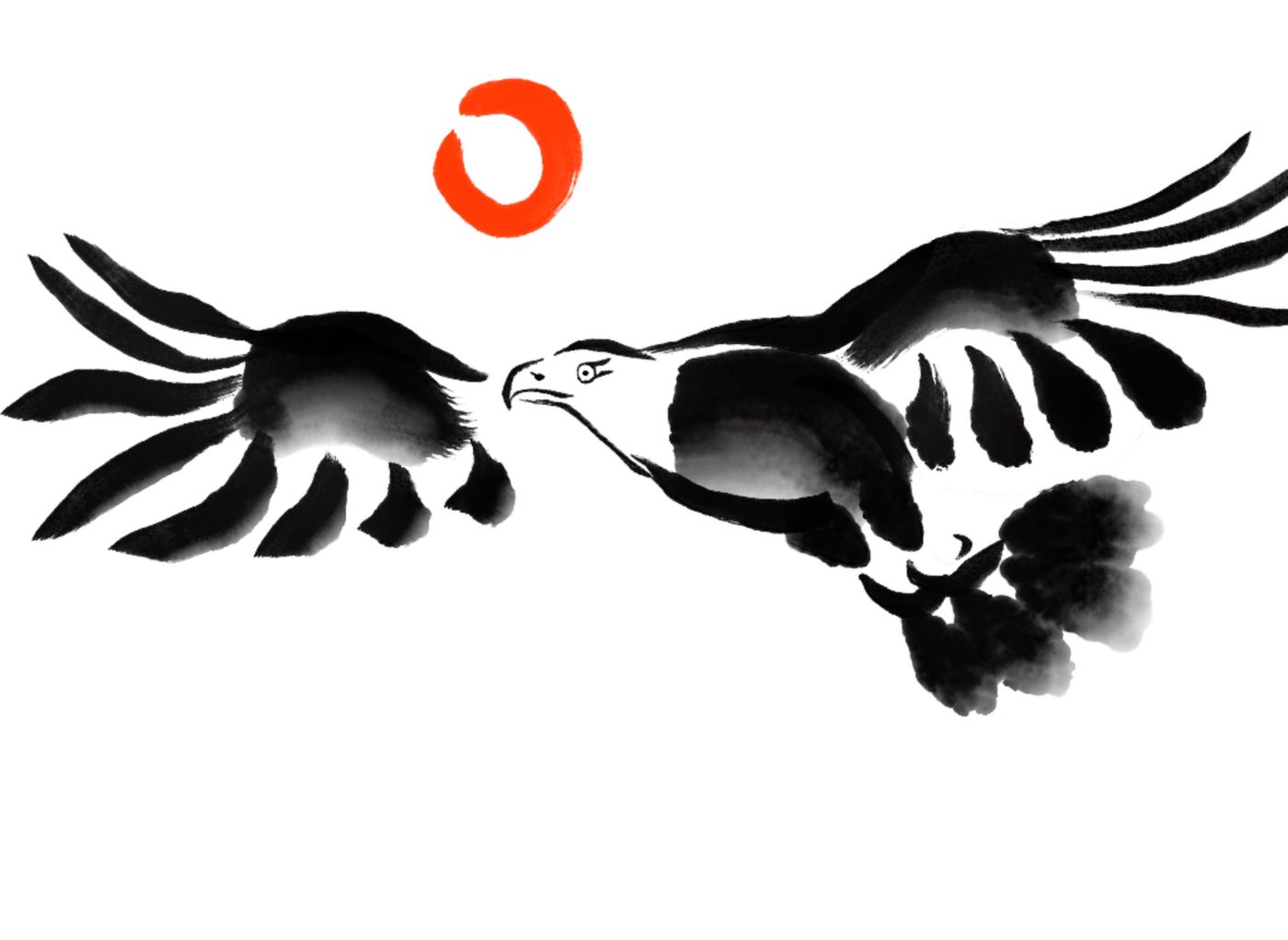 Our Mission and Values
Mission
To create space for the human capability and capacity to heal, transform, and grow.
Values
Integrity
We approach our life and work from a place of integrity, which to us means being true to ourselves and our values.
Autonomy and respect
We respect ourselves and our own autonomy in deciding for ourselves what is right for us and respect the same in others and trust that everyone has the discernment to decide what is best for them.
Love
We strive to approach everyone and everything from a place of love.
Balance and sustainability
We strive for balance in our lives and sustainability in our work.
Confidentiality and privacy
We believe where everybody is at, their history, and their growth are their own business. We take our journeyers' trust seriously and keep their identities and stories in confidence.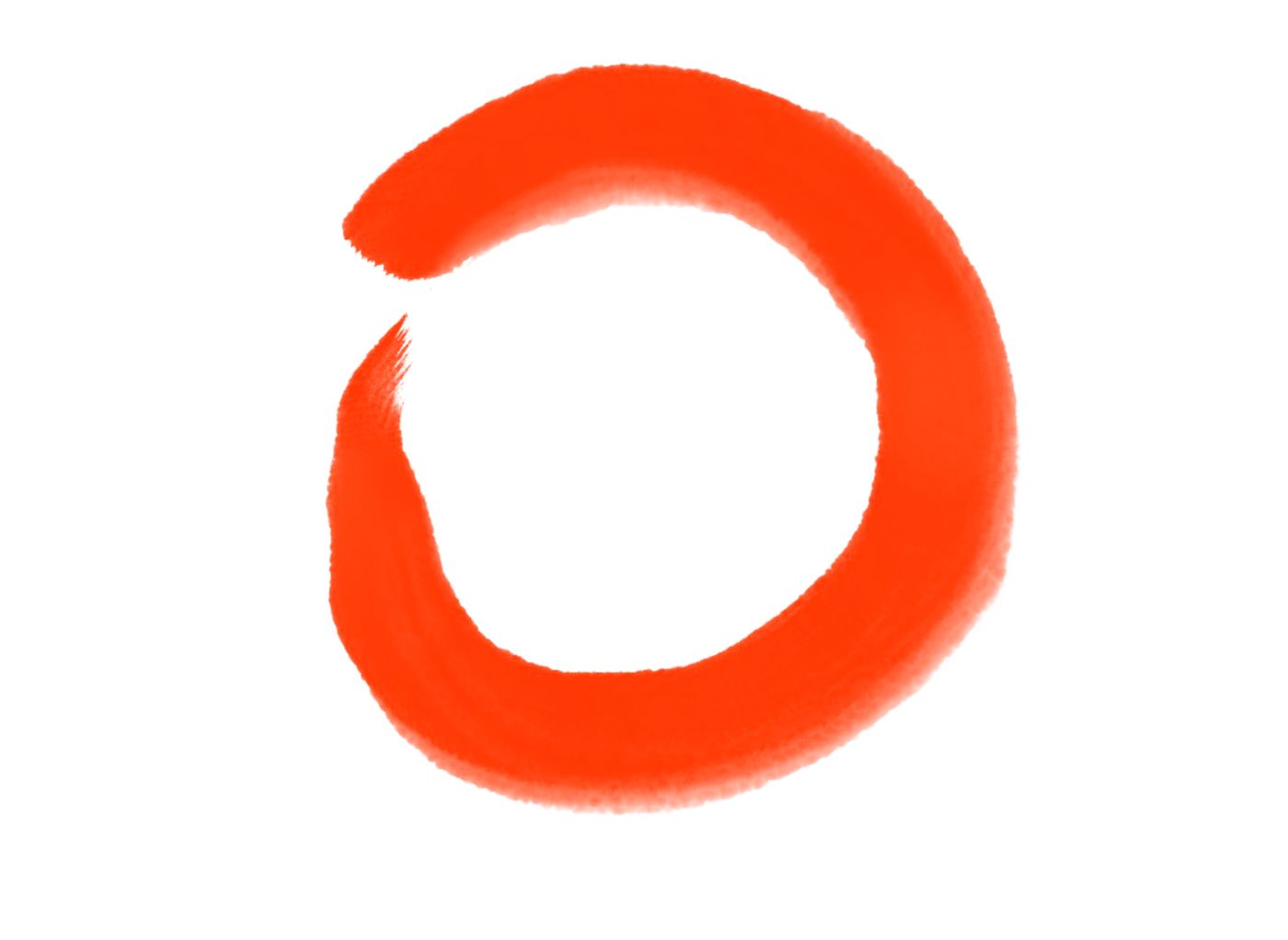 Contact Us
Hello fellow earthlings, we would love to hear from you. We can be reached at [email protected]. If you want to support our work, we accept contributions by e-transfer to the same email address or by crypto (please contact us for our crypto addresses).

Vancouver, BC, Canada